First Single And First Show
The very first single from er, me, is going to be Courtney's Moving To Newtown (To Start A Band).
It's going to be the first track on the upcoming Do You Think We'll Live Here Forever?, the long winded-ly titled new album. It will be available to take home – FREE – at a very special compilation available at our first show.
That show? I am launching the single with a band at the Newtown Town Hall (where else?) on 26th April 2014 and part of Electric Sundays. Also on the bill are Whopping Big Naughty, Danny McDonald and Wasters – and runs from 6pm to 10pm. Totally free too. Here's the Facebook page for the show.
I friggin LOVED Danny McDonald's old band P76, in particular the record Into the Sun.
Electric Sundays will have a new free compilation you can pick up on the night and it features awesome, awesome Sydney artists and bands. It's called Autumn Shade. I already got my copy.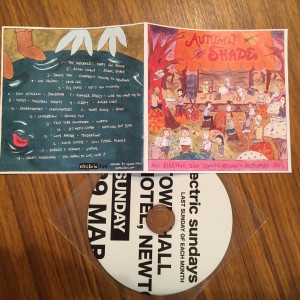 We're track 3….just like Girlfriend on the Matthew Sweet album Girlfriend. So yeah, come down to a show and pick up a cool CD.
Courtney's Moving To Newtown (To Start a Band) will be up to listen to in the next couple of weeks too.
In the meantime – why not like my new Facebook page.